Havana's Archbishop Cardinal Jaime Ortega called on Cubans to welcome Pope Francis with an open and receptive spirit, ahead of the Holy Father's visit to the island from September 19th to 22nd.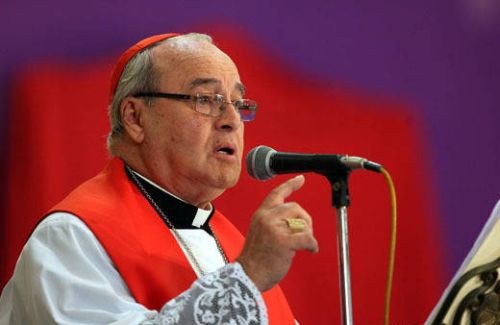 In an interview with the Havana's Tribuna journal, the Cuban Catholic leader urged to welcome the Bishop of Rome "with an open, receptive spirit, not seeing him as someone important, distant and great but as a close friend".
The image of Pope Francis is always shocking and being the first Latin American Pope fills us with particular joy and happiness. He had never visited Cuba. And I could witness the joy he felt when he approached me to let me know about his desire to visit us, said the Cardinal.
Ortega recalled that the Pontiff arrives to the island in a very special time.
"We are entering a new era in the country's diplomatic relations, an era of rapprochements and progressive interest to improve ties in general and to lift the blockade against Cuba, which has affected us for so many years", he said.
About the preparations for his visit, the Cardinal said there has been a lot of enthusiasm, evidenced by welcoming words and the Pope's face on billboards and signs across the city.
There is a lot of movement in Matanzas, Pinar del Rio, Cienfuegos and Villa Clara, from where people will travel to the capital for the Mass, he added.