Cuba underlined in Geneva the need to establish a more just, democratic and equitative international order that eliminates the obstacles to national efforts for the realization of all human rights.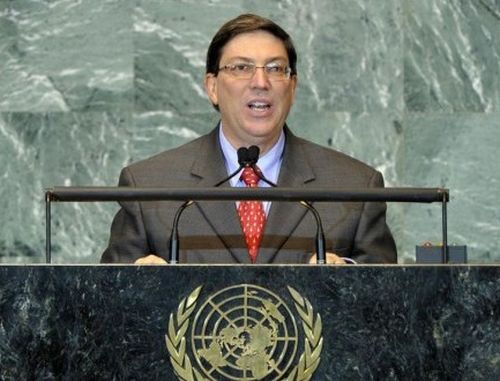 Speaking at the Council of Human Rights, Foreign Minister Bruno Rodriguez, affirmed the Caribbean nation keeps committed with a genuine international cooperation, based on the indivisibility of these rights, the non selectivity and non politization.
We are extending an invitation to the president of the International Red Cross Committee and to the Rapporteur on the Traffic of Persons to visit our country, he added.
Rodriguez also said he and the High Representative of the European Union (EU) for Foreign Affairs and Security Policy to resume the bilateral high level dialog.
We will continue to be committed, on the reciprocal bases agreed on, sovereign equality, mutual respect, non interference in internal affairs and respect to the legal organization of the parts, in the negotiation of a Cooperation Agreement between the EU and Cuba, he emphasized.
Conscious that we have profound differences with the government of the United States in the areas of political systems, democracy, human rights and International Law, and with the will that both countries can move forward civilly on these issues, we proposed last July to hold a bilateral dialog mutually respectful and in reciprocal conditions, he stressed.
The diplomat added the State Department had communicated its acceptance in recent days and the dialog will be held in the next weeks.
The Cuban part will participate with a constructive spirit, true to its convictions, ready for international cooperation and respectful and transparent in the expression of its serious worries about what happens in the area of human rights in the United States, he emphasized.
The island, he expressed, considers that the economic, commercial and financial blockade imposed on it is a flagrant, massive and systematic violation of the human rights of all Cubans.
The Cuban government appreciates the announcement made by the U.S. President Barack Obama, that the blockade damages the Cuban government and his decision to take part in a debate with his country's parliament aimed at eliminating it, said the Foreign Minister.
In his speech he also reiterated his support to the Bolivarian Revolution and the government of President Nicolas Maduro, while condemning the unilateral sanctions imposed to that country and the continued foreign intervention in order to create a climate of instability.
The Cuban FM also expressed the Cuban government's support to the inalienable right of the Palestinian people to have its own State in the borders previous to 1967 and with capital in East Jerusalem.