Brazilian Foreign Minister Mauro Vieira described in Havana the excellent state of relations between his country and Cuba and expressed the willingness to deepen and strengthen them.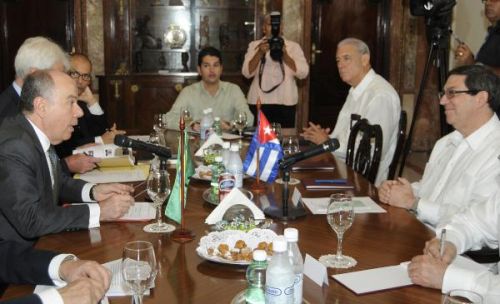 During a meeting with his Cuban counterpart, Bruno Rodriguez, at the host building of the Ministry of Foreign Affairs, Vieira expressed satisfaction with his sixth visit to Cuba, first as minister, "a sister nation with which Brazil has a lot in common."
The visitor thanked the contribution Cuba's program of more doctors, promoted by the government of Dilma Rousseff, in which around 12,000 doctors from the island participate.
Rodriguez stressed the great potential for the development of bilateral cooperation in areas such as economic, commercial, scientific, cultural and sports, and the possibility of deepening the cooperation in the field of health.
Internationally, Brazil and Cuba are broadly consistent in their positions and maintain a high degree of coordination in multilateral forums, while working in confronting threats to peace and other issues, he said.
The Cuban Foreign Minister thanked his counterpart historic solidarity and support of the Brazilian people in this Caribbean nation, and especially the continued support in the battle against the economic, commercial and financial blockade of the United States.
Vieira will hold meetings also in Havana with the Cuban Minister of Foreign Trade, Rodrigo Malmierca, to address issues related to cooperation between the two countries and the creation of the Chamber of Commerce Brazil-Cuba.
Also, to discuss the extension of the Agreement Economic Complementation Agreement (ACE-62) between the Southern Common Market and the island, and regional and global issues.