The book "Fidel Castro: Guerrillero del Tiempo" (Fidel Castro: Timeless Guerrilla Fighter) was launched this Thursday in the Chinese city of Shanghai by its author, Cuban journalist and writer, Katiuska Blanco.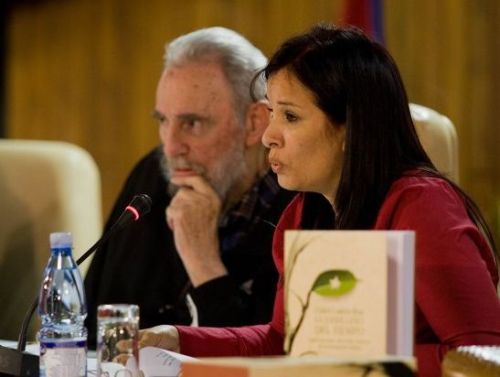 The launch of this text published in Mandarin language, which was already launched in Beijing and soon in the southern province of Guangzhou, is part of the activities carried out this year by the Cuban embassy, to commemorate the 55th anniversary of the establishment of diplomatic relations between the two countries.
Published by the People's Daily Editorial, subordinate to that newspaper, the book is a compilation of talks between the statesman and leader of the Cuban Revolution, and its author.
This book collects personal and family memories and reflections of Fidel from childhood to the revolutionary triumph in January 1959, with a structure of questions and answers.
During the launching of the Mandarin Chinese version, the journalist recalled her first meeting with Fidel in 1993, and subsequent talks on different occasions.
Translated by Song Xiaoping and Xu Shicheng, researchers from the Institute of Latin American Studies of the Chinese Academy of Social Sciences, the text also has about 170 photographs.
Fidel Castro's prologue written for the Chinese language publication, recounts his relationship with this ancient nation, exchanges between the two countries, and expressed Cuba's admiration for the Chinese people.
The historic leader also considered that China is making a valuable contribution to peaceful cooperation, the development of all states, confronting epidemics, hunger, poverty and solidarity at international level, "only possible in socialism."
The Spanish language edition of the book was published in Cuba in 2012 and received a important reception in many countries.