Cuban Heroes Gerardo Hernández, Ramón Labañino, Antonio Guerrero, Fernando González, René González, and Orlando Cardoso Villavicencio, were awarded Marcelo Quiroga Order by Evo Morales.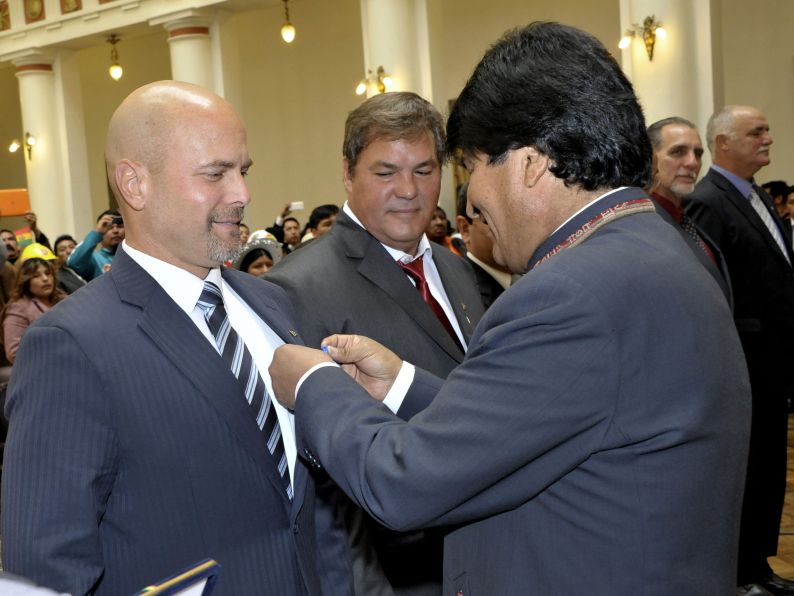 The Cuban Five are deserving of the Marshal Andres de Santa Cruz award because they are real chivalrous, revolutionary men that managed to get over from unfair prison sentences, the Bolivian Foreign Minister David Choquehuanca said.
Latin America will be grateful for the Cuban Five forever. Their example of patriotism, struggle and strength will never be forgotten. Their behavior in hard times summarizes the values of a revolutionary person, a gentleman, like the order they were given today, said Choquehuanca in exclusive remarks to Prensa Latina.
Choquehuanca's statements came after President Evo Morales bestowed the decoration on The Cuban Five, as well as on Hero of the Republic of Cuba, Col. Orlando Cardoso Villavicencio.
Choquehuanca said the Cuban Five are patriots of Cuba and of the greater homeland because the entire Altin America is proud of them.
"We feel great respect and admiration for these men who fought against terrorism and not only to protect the Cuban people, but also the entire Latin America' and we will always be grateful to them," he said.
During their stay here, the six Heroes of the Republic of Cuba will develop a thick plan of activities, including a visit to the Plurinational Legislative Assembly (Parliament), a meeting with students of the Jose Marti School and with members of several social movements of solidarity that demanded their release for years.