Besides the president, vice president, senators and national deputies, Argentinians will elect on Sunday the governors and other authorities in 11 of the 24 provinces in the country.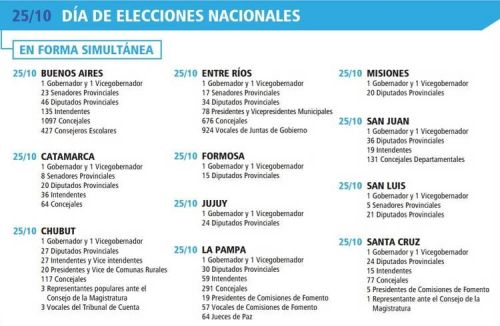 They will define, especially, who the governor of the province of Buenos Aires will be.
Buenos Aires, with almost 15 million inhabitants, is the most populated, industrial and the most politically important in this country.
The post is currently disputed, as main candidates, Head of Cabinet Anibal Fernandez for the Front for Victory (FpV), Maria Eugenia Vidal, member of the right-wing alliance Let's Change and Felipe Sola for the coalition A New Alternative.
The polls place the FpV aspirant as leader in the race for the government, with headquarters in La Plata, ahead of Sola, who goes second now, and Vidal in the third position, according to a poll by the pollster Gonzalez and Valladares, with its head office in Buenos Aires.
The other provinces to elect governors on Sunday are Catamarca, Chubut, Entre Rios, Formosa, Jujuy, La Pampa, Misiones, San Juan, San Luis and Santa Cruz.
In those provinces, there will be simultaneous elections to also choose the members of their respective legislatures, governors and town councillors.