Argentineans vote in a normal country, with no crisis, said today President Cristina Fernández, after voting in Río Gallegos, in southern province of Santa Cruz.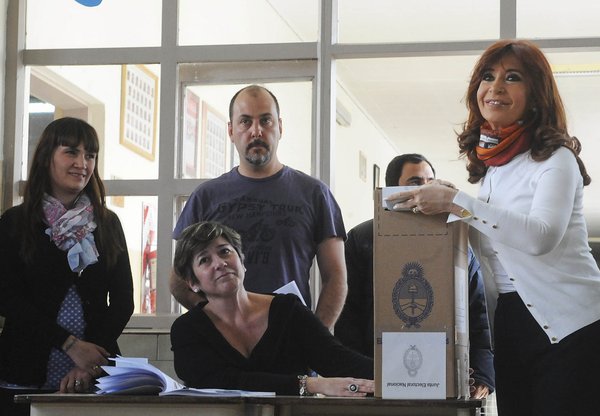 More than 32 million Argentineans elect today the new president, the one for the next four years, plus the governors of 11 provinces, 24 senators and 130 deputies of the National Congress, besides the multiple district and municipal positions.
The President, who had a brief exchange with reporters at the scene declared: 'This is a very special case. We are fulfilling a promise that was made on May 25, 2003. by a Santa Cruz man to all Argentineans. And the truth is that today we are voting in a normal country'.
'Before the FpV was a national political force, we always voted in crisis settings. We are voting today, after three consecutive FpV governments, in an absolutely normal country' she said.
'There is no one afraid of anything to happen to them economically, we are in a country with one of the lowest unemployment rates in its history, with a unique economic growth in Latin America, with Argentineans traveling around the world', she added.
Cristina Fernández voted at noon in the table 567 of the School Nuestra Señora de Fátima of Rio Gallegos. Her son Máximo Kirchner heads the FpV list of candidates for national deputy of that province.
Alicia Kirchner, the current Minister of Social Development, also of FpV, aspires to become governor of Santa Cruz, although both Máximo and she face a tough rivalry from the opposition that was allied there to face the Kirchners.
When asked what she will do since December 11, Cristina replied: 'To militate, what I did all my life.'
From her team it was indicated that the head of state will expect the results at the Presidential Residence in Olivos.