The Prima ballerina assoluta was honored this December 21st, on the occasion of her 95th birthday anniversary with a gala organized by the National Ballet of Cuba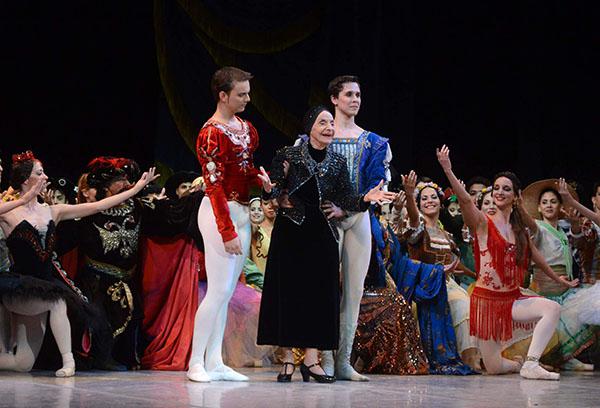 Alicia Alonso is among the all time "sacred giants" of world dance. The Prima ballerina assoluta, choreographer, founder and general director of the National Ballet of Cuba, is an outstanding pillar of the Cuban school of ballet, a passionate and fiery woman, just like many of the characters she interpreted like no other.
This December 21, Cuba celebrated her 95th birthday with a gala by her own company in salute of her career as one of the essential figures in the history of classical dance.
To attempt to trace the scale of her professional and artistic influence would be an overwhelming task. Here we share just some of the comments the ballerina has offered to this publication over more than 30 years in which we have accompanied all her "divine adventures", to quote poet Eliseo Diego.
"My career was tough. My name, Alicia Alonso, they wanted me to change it. When I arrived in the United States (in the 40s) there was no ballet, it was the musical comedy, I performed in two, you also had to sing, and as I didn't know enough English I just mimed, but I can tell you that it was a phenomenal success, then with Ballet Caravan (predecessor to the current New York City Ballet) I danced in Billy the Kid, Rodeo and Birthday Party."
From there she went on to the American Ballet Theatre in New York. "When I entered I was in the corps de ballet and I quickly passed on to be a coryphée, soloist and then prima ballerina. That was because I learned everything. I knew the roles of both men and women. When they asked, 'who can do…?' There I was."
Little Alicia Ernestina de la Caridad del Cobre Martínez del Hoyo loved the discipline of the ballet right from the beginning. "I was nine and went to Pro Arte (the Pro-Arte Musical Society in Havana), which had just opened a ballet school. I arrived late the first time and Professor Nikolai Yavorski reprimanded me. I clung to the bar and when I finished that class, in the auditorium, I yelled at my mom: this is what I enjoy most in the world."
The prima ballerina assoluta confronted a loss of vision from very early on in her career. "How difficult, right? I was someone who made very precise movements, I had studied them, I was very musical. So I could dance even with my sight difficulties. That's how I danced. I knew all the ballets very well. I keep watching them and practicing in my mind. The desire to dance has not left me. Now all that I know, what I have learned, I teach to the youth of the company, so their career progresses faster. I feel alive each time I hand something over (to them)."
As a student, Alicia debuted in 1931 in the grand waltz of The Sleeping Beauty in the Wood. More than 60 years later, after a splendid career, she would perform for the last time. "It was in Italy (in 1995, at the Massini Theater in the city of Faenza). I danced Farfalla (her own choreography). I didn't want it to be a dramatic or sorrowful farewell, nor for the audience to know it was the last time. I thought that would be cruel for both. When I finished dancing, I said I won't dance anymore. Nobody knew. What better than Farfalla, that butterfly that flies away?"
But Alonso's greatness can still be appreciated every night on stage…as a choreographer. Above all in her versions of the great classics, Sleeping Beauty, Coppelia, Don Quixote, The Nutcracker, Grand pas de quatre, Swan Lake and the mythical Giselle, a role which she mastered so perfectly that Maurice Bejart told her, "You are Giselle."
Then there are her own works, including among others, Umbral, Pretextos, En las sombras de un vals, Shakespeare y sus máscaras, Desnuda luz de amor, Preciosa y el aire and Lucía Jerez.
Alicia Alonso, maestra de generaciones is the title of the gala that the National Ballet of Cuba organized for its director on her 95th birthday, with artistic direction and choreography by maestro Alberto Méndez.
Méndez who, for Alicia, arranged pieces such as La diva, María Callas in memoriam, La viuda alegre, Poema de amor y el mar (with Rudolph Noureyev and soprano Victoria de los Ángeles), Nos veremos ayer noche Margarita, Ad libitum (encounter with Antonio Gades) and Lucrecia Borgia, selected highlights of the assoluta'scareer, with the company perfectly performing the pieces in the National Theatre's Avellaneda Hall.
Scenes from Giselle, Swan Lake (black and white), Coppelia, La fille mal gardée, Sleeping Beauty, and Carmen, together with a sort of showcase of other key roles played by Alonso (Madame Taglioni, Lizzie Borden, Dido, Yocasta, La Molinera, Farfalla, Margarita Gautier, La Peri, Lucrecia Borgia, Cleopatra, Anna de Glavarys), were put together splendidly by Méndez and danced with passion and flawless style by the company.
It was pandemonium when, at the end of the gala, Alicia Alonso, the global ballet legend herself, took to the stage. A standing ovation to say, in a way, thank you Alicia for so much shared art.