The Bolivarian Alliance for the Peoples of Our America-Trade Treaty of the Peoples (ALBA-TCP) moves towards the development of the Caribbean region.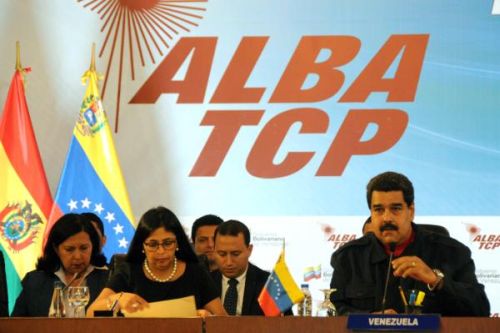 Several energy and social agreements were signed yesterday in Caracas, during the IV extraordinary meeting of the Political Council of the bloc, have financing funds Petrocaribe energy cooperation initiative and the Bank of ALBA.
In closing the meeting, Venezuelan President Nicolas Maduro mentioned several agreements, including one with Antigua and Barbuda that establishes the construction of a pilot wind power capacity to produce 1.5 megawatt plant.
While the ALBA invests for that installation, capitalist power centers only advocate the destabilization of Latin America and the Caribbean and the plundering of resources from outside the region, he said.
The president also announced the construction of a medical center and the improvement of production and agricultural sectors of Dominica, as well as installing solar panels on public schools and housing construction in St. Kitts and Nevis.
In addition, he included the construction and rehabilitation of schools in Granada and sports centers in Saint Vincent and the Grenadines over the next projects to be executed by the ALBA-TCP. Meanwhile, in St. Lucia will begin the building of houses that will be delivered through a social program for homeless, he added.
According to Maduro, the ALBA-TCP seeks to raise the quality of life of the countries of the region. Everyone has the right to development and together we will achieve it, he said.
The ALBA-TCP consists of Bolivia, Nicaragua, Dominica, St. Lucia, Granada, Ecuador, Saint Vincent and the Grenadines, Antigua and Barbuda, St. Kitts and Nevis, Cuba and Venezuela.