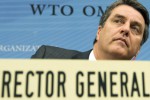 The Director-General of the World Trade Organization, Roberto Azevedo, complies today with an extensive agenda of exchanges with Cuban authorities.
After arriving in the Cuban capital yesterday, from Mexico, the senior executive of that multilateral body met with Rodrigo Malmierca, Minister for Foreign Trade and Foreign Investment (MINCEX).
Today's agenda includes meetings with Council of Ministers' Vice President Ricardo Cabrisas, and Deputy Foreign Minister Abelardo Moreno.
Azevedo will also hold talks with executives of the Regulation Office of the Mariel Special Development Zone, located some 50 kilometers west of Havana, and destined to be the main entrance and exit door of the Cuban foreign trade.
First of its kind in the country, this location predicts an industrial platform for import, production and sale of the internal market or to other countries, as well as a modern mega-harbor.
The WTO director general previously visited Mexico, where he stated that the body is in a time of uncertainty, although it is possible to find a solution and move forward in a package for trade facilitation, adopted at the Ministerial Conference held in Bali in December 2013.