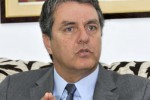 World Trade Organization's general director Roberto Azevedo welcomed the process underway in Cuba to find its own ways towards its larger presence in world economy and trade.
In statements to PL news agency, the WTO top executive said that Cuba is a founding and very important member of that organization and it is part of a reality that most nations have it in mind for their own development, so he praised the Cuban foreign investment projects.
Azevedo also stressed the contribution by regional integration blocs in Latin America and the Caribbean as he considered them as facilitators of a gradual and progressive insertion in world trade.
The executive said that the WTO is interested in exploring ways to work with Cuba in order to maintain a strong and operative multilateral system of trade to empower small regional economies.
Latin American integration with the WTO will continue to be strong and it will further develop, he stressed.
During his two-day stay in Havana this week, Azevedo met with Cuban Foreign Investment minister Rodrigo Malmierca, with government vice-president Ricardo Cabrisas and with deputy foreign minister Abelardo Moreno.