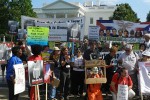 Activists from throughout the United States, Europe, Canada, Latin America and the Caribbean, are meeting in Washington today to examine and demand a change inWhite House policy towards Cuba.
The request is being expressed at an event titled "A New Era in USA-Cuba Relations," as part of a vast program of activities for the third annual "Five Days for the Cuban Five in Washington DC" campaign, begun yesterday and running through June 11.
According to the International Committee to Free the Cuban Five, the event will be opened by actor Danny Glover, who is an advocate of this change and also a supporter of the efforts to free Gerardo Hernandez, Ramon Labañino and Antonio Guerrero so they can return to their country.
Rene Gonzalez and Fernando Gonzalez, the other two members of the Cuban Five, are now in Cuba after having completed their prison sentences.
The solidarity group points out that these men, who were arrested in 1998 in U.S. territory, managed to frustrate "attacks against Cuba, planned and orchestrated by exile groups settled in Miami."
The meeting will include panels about secret U.S. programs aimed at destabilizing the island (like the ZunZuneo social communication network, sponsored by USAID), the history of terrorism against Cuba, as well as an update on the legal case of the Five.
The meeting will conclude with a concert "by famous hip-hop progressive artists Dead Prez at the Columbia Heights Educational Campus Auditorium."