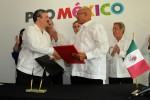 A Mexican delegation comprised of officials and business representatives continued its working agenda in Cuba today, with a visit to the Mariel Special Development Zone (ZEDM).
"We seek a strong presence at the ZEDM because we think this could be a spearhead toward many markets," ProMexico general director Francisco Gonzalez said yesterday.
During the first day of the visit, officials from both countries expressed their interest in strengthening trade relations. With that in mind, the ProMexico office in Cuba was opened, while ProMexico and the Cuban Center for the Promotion of Foreign Trade and Foreign Investment (CEPEC) signed a cooperation agreement.
Gonzalez stated that the office will be a very important bridge to facilitate bilateral economic relations.
CEPEC director Roberto Verrier commented that there has been a relaunch of trade relations joining the two nations ever since the official visit made by President Enrique Peña Nieto to Havana in January.
The signed agreement is seen as very important, taking place in the framework of the New Foreign Investment Law recently approved here, and the creation of the ZEDM, some 50 kilometers west of Havana.
The delegation, which concludes its visit today, is made up of 60 business representatives and eight government officials.