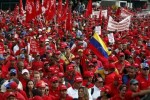 Venezuelans staged a mass mobilization this Tuesday for peace and against violence unleashed by right-wing opposition sectors.
CELAC Expresses Solidarity with Venezuela
Workers, headed by employees of the country's oil sector, marched from Bolivar Square to the government's headquarters at Miraflores Palace to also express their strong support for the constitutional government of President Nicolas Maduro, as well as their rejection of the destabilization plots orchestrated by his political opposition.
Also participating in the march was the country's military, whose top leaders express their unconditional support for President Maduro and reaffirmed that they would never accept, much less support any unconstitutional government that emerges from a military coup.
Defense Minister Carmen Melendez told the press: "The armed forces will always be on the side of justice and development of the fatherland. Every act of violence takes us back to intolerance."
In other expressions of support for Venezuela and the constitutional government of President Maduro, Bolivian President Evo Morales called to defend democracy in Latin America and the Caribbean and condemned the latest violent actions by facist groups in Venezuela.
In related news, Venezuelan opposition leader Leopoldo Lopez handed himself over to security forces on Tuesday. Lopez, a 42-year-old U.S.-educated economist, is wanted on charges of fomenting deadly violence, in relation to violent protests on February 12th, which claimed three lives.