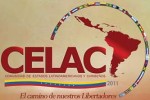 The Community of Latin American and Caribbean States (CELAC) expressed its solidarity with the Venezuelan people in a communique released in San Jose, headquarters of pro-tempore presidency of the 33 member-nations integration bloc.
The Community has learned with concern the violent acts staged in the Bolivarian Republic of Venezuela last February 12 and in later days, and deeply regrets the loss of human lives.
"Our Community is against violence and promotes people's safety, peace, stability, and development; and considers that democratic institutionalization, respect to law, and reliable and truthful information must be guaranteed at all times, as well as full respect for all human rights," reveals the communiqué.
It also highlights that CELAC member nations express their solidarity with the people of the Bolivarian Republic of Venezuela and encourage its government to continue making efforts for bringing all the country's political forces to hold a dialogue in the interest of achieving the peace and national unity the Venezuelan people needs to continue its way towards development and well-being.
LatAm, Caribbean Support Venezuelan Gov´t
The three main multinational organizations in Latin America and the Caribbean, Unasur, Celac and Mercosur, as well as different states, rejected the institutional destabilization attempt taking place in Venezuela for some days now.
They also expressed their support to the constitutional government of Nicolas Maduro, who was legitimized twice in elections, while calling to maintain peace and tranquillity in that nation.
In a communiqué issued on Monday night, the Union of South American Nations (UNASUR) reaffirmed its commitment with the institutions and the democratic principles as the "pillars of the regional integration process."
The 12 members of Unasur favored democratic order, the Rule of law and its institutions, highlighting the conviction that any demand should be channeled in a pacific way, through a democratic manner.
After regretting the violent events, particularly those taking place on February 12, the Community of Latin American and Caribbean States (CELAC) rejects violence and promotes citizens´ safety, peace, stability and development.
Regarding the coup incidents in Venezuela, the five member countries of the Southern Common Market (Mercosur) rejected "all kind of violence and intolerance that seek to destabilize the prevailing democracy and its institutions, whatever its origin."
On February 12, Venezuelan right-wing groups hit to death three political activists of the government, apart from damaging seats and institutional vehicles in Caracas and other cities.
On Friday, members of at least 15 organizations demonstrated in front of the Venezuelan Embassy, while the United and Organized group convened a similar protest, to be held on Wednesday, with the same goal at the diplomatic seat.