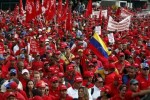 At least 42 percent of Venezuelans consider that President Nicolás Maduro must fulfill his presidential term through 2019, according to the latest survey carried out by Hiterlaces pollster.
Hinterlaces, which monitors the country's political and social situation, carried its poll among 1,000 Venezuelans countrywide on Feb. 8-14, as reported by journalist Jose Vicente Rangel in the segment Confidenciales of his morning television program broadcast by private Televen national television network.
The survey also found that 29 percent of the people wanted a mid-term recall referendum, as established by the Constitution, while 23 percent consider street protests as a solution.
Meanwhile, 35 percent of people polled consider that the government must keep a firm hand on speculators and hoarders, and 29 percent thinks prudent a closer alliance with the private sector.
Hinterlases found that most people consider important their electoral participation as a tool to decide the country's fate.
Those who fail to recognize the vote as part of the Venezuelan people's culture are mistaken. Most people are for stability and hope rather than uncertainty.