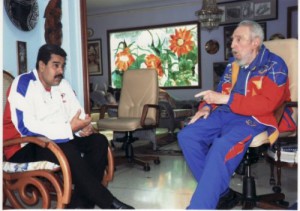 President Nicolas Maduro stressed in Caracas his meeting with the historic leader of the Cuban Revolution, Fidel Castro, during his recent visit to Cuba.
During the meeting of the National Commission to Fight Smuggling, Maduro mentioned the exchange, during which food supplies were one of the topics discussed.
Maduro pointed to the research underway on vegetable protein sources, being carried out jointly by teams from both nations.
The leaders also discussed the situation in the Gaza Strip, and the offer Venezuela had made to the Palestinian people to receive its children who are victims of the Israeli aggression.
"Fidel (Castro) was visibly moved by the announcement from Caracas to support the victims of those bombings," the Venezuelan head of State said.
"Cuba and Venezuela are sons of (Jose) Marti and (Simon) Bolivar, because we also have a common destiny in the construction of the homeland," Maduro added.