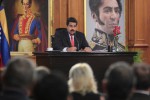 The cabinet reshuffle carried out by Venezuelan President Nicolas Maduro is raising expectations today in a society that requires change.
The president revealed Tuesday the changes in the cabinet and the government structure in order to optimize management and further empower the Venezuelan people, according to official sources.
Jorge Arreaza remains as Executive Vice President while several portfolios merged to optimize their administration, the president said during a broadcast on national television from the Miraflores palace.
The country's vice-presidency of economy and finance is to be held by Rodolfo Marco Torres. Asdrúbal Chávez was appointed Oil and Mining Minister and Isabel Delgado will be the new Trade Minister.
The Ministers of Industry, José David Cabello; Tourism, Andres Izarra and Water and Air Transportation, Giuseppe Yoffreda, also make up the vice-presidency of economy and finance.
The Vice President of Security and Food Sovereignty was newly created and will be led by Yvan Gil, who was also appointed chairman of the Agricultural Bank.
The newly appointed Minister of Foreign Affairs, Rafael Ramírez, will be in charge of the Deputy Presidency of Political Sovereignty, a new body that will merge various ministries.
Each of these agencies will fulfill their role in the new scheme of government, whose design seeks to empower the people in the exercise of its sovereign powers, Maduro said.