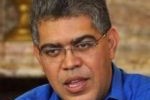 Venezuelan Foreign Minister Elias Jaua has accused international media outlets of conducting a psychological war against the oil-rich nation.
Speaking during the second top-level segment of the 25th Session of UN Human Rights Council in Geneva, Jaua said Venezuela has been subjected to a continuous attack over the last month that seeks to make the state look like a human rights violator.
He pointed out: "They are trying to paint a picture of generalized chaos and indiscriminate repression to justify a foreign intervention in our internal affairs."
The Venezuelan diplomat also met with UN Secretary General Ban Ki-Moon to address the situation in Venezuela. After the meeting with Jaua, the UN issued a statement saying that Ban had "reiterated his hope to see reduced tensions and the necessary conditions to engage in meaningful dialogue."
Venezuela has witnessed violent unrest since February 12th. The government says at least 18 people have died and more than 260 have been injured in the protests and attacks on government institutions.
According to the government, right-wing groups backed up by the United States have encouraged the violence as part of a coup plot against the administration of President Nicolas Maduro.