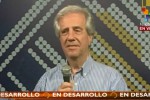 Tabaré Vázquez, of the governing Frente Amplio (FA), and Luis Lacalle Pou, candidate for the opposing Partido Nacional, will confront each other again in a second electoral round next November 30, surveys confirmed.
Although figures are not official, the three main surveying firms agreed that the former president Vazquez (2005-2010) heads the count with at least 46 percent of the votes. The same sources at polling stations registered about 32 percent for Lacalle Pou and some 13 points for Pedro Bordaberry, of Partido Colorado.
They also attribute three percentage points to Partido Independiente and one of the three surveys considers Unidad Popular received one percent of the votes.
In this unofficial context, the first conclusion is that the ticket Tabare Vazquez-Raul Sendic, won the first round, but without enough votes for absolute majority, making a second round necessary in 35-days time together with Lacalle Pou.
Thousands of followers of the Frente Amplio took the streets of Montevideo to celebrate the successful election campaign of their party.
At the FA headquarters, Vazquez thanked the confidence of the people, expressed sorrow for the two followers of their party in an accident and announced that he would work to reach a third term in power for the Front.
Waiting for official results, to be announced this Monday, Vazquez also said the FA had probably obtained majority in parliament for this party.
In his brief message of celebration, he assured that he would always use dialogue, respect and tolerance and would try to reach political and social consensus for a better quality of life for Uruguayans.
He also celebrated that the proposal of constitutional reform to reduce the age of minors to be tried as an adult for severe crimes had failed in a referendum carried out together with the election process.