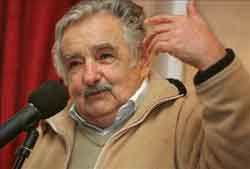 President Jose Mujica, who cast his vote early Sunday, said that in this election "Uruguay will decide what it has to decide".
The president, among other comments, asked Uruguayans to quietly vote because the elections are an important step for the country, but it is not a war, he clarified.
Sitting at the helm of his old VW defray while waiting for his wife, Senator Lucía Topolansky, avoided making formal statements and announced he will do it tonight, after learning the results of the vote.
Meanwhile, the presidential candidate of the ruling Frente Amplio, Tabaré Vázquez, was also among the first voters going to the polls. The former president (2005-2010) was cheered before and after exercising his vote.
His contenders, Luis Lacalle Pou, the National Party; and Pedro Bordaberry of the Colorado Party, both opposition, will vote on 11:00 (local), according to reports.
The day unfolds, by all indicators, in an atmosphere of calm and order.