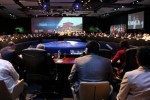 The Declaration of the Community of Latin America and Caribbean States (CELAC) to establish a Zone of Peace is an example for the whole world, said UN expert on democracy, Alfred de Zayas.
In a note of press issued, the responsible for promoting a democratic and equitable international order stressed the decision of the CELAC at its recent 2nd Summit, held in Havana, reflects commitment and addresses key aspects of peaceful coexistence.
This new declaration that emphasizes the universal disarmament, even of the conventional arms trade, is an example for the whole world, stated the independent expert appointed by the UN Human Rights Council.
Zayas pointed out that the pronouncement of the integrationist block of 33 countries represents an auspicious sign for the progress of an international order that can and should be more democratic and equitable, based on the principles of sovereignty and solidarity, enshrined in the Charter of the United Nations.
The CELAC declared the region as a Zone of Peace on January 29, in a proclamation read by Cuban President, Raúl Castro, on the second and final day of the 2nd Summit, where the island gave the organization's pro-tempore presidency to Costa Rica.