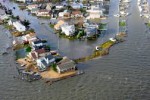 The World Meteorological Organization (WMO) has launched a campaign to draw attention towards the effects of climate change, as frequent flooding, storms and a searing heat wave are predicted within 40 years.
The United Nations WMO invited television weathercasters around the world to make videos with extreme forecasts set for 2050, as part of the short film series "Weather Reports from the Future", made to confront global warming.
The WMO will present those videos to support the call from UN Secretary General Ban Ki-moon for countries to agree on ambitious measures to deal with climate change during the UN Summit on Climate, set for September 23rd in New York.
WMO warned that if the release of greenhouse gases produced by humans keeps growing, the average temperature in the lower layer of the earth's atmosphere could grow four more centigrades by the end of this century.