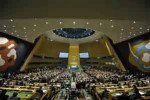 The sixty-ninth session of the UN General Assembly opens today with its priority the establishment of a post-2015 sustainable development agenda.
In the coming months, the international community should agree to new targets for global progress, to replace the millennium goals set 14 years ago.
The elimination of extreme poverty, the fight against inequalities and north-south asymmetries, and the defense of nature are among the complaints heard in the 68th sessions coming to an end.
During the working days of the UN main body, where the 193 member countries are on an equal footing, issues such as world peace, the economy and global finance, climate change, food security and the reform demanded of the Organization, in particular its Security Council, will be addressed.
It is expected to also highlight in discussions and other events the conflicts in Syria, Ukraine and African nations, as well as the Ebola epidemic plaguing Africa, mainly Guinea, Liberia and Sierra Leona.
Ugandan Foreign Minister Sam Kutesa, will chair the new session of the Assembly, headed by the former diplomat John Ashe from Antigua and Barbuda.
Different geographical areas in the General Assembly will have the opportunity to express their principal concerns.
For Latin America and the Caribbean there are expectations on regional issues such as integration, the United States blockade against Cuba, the British occupation of the Malvinas (Falkland Islands) while Argentina calls for their sovereignty; and the decolonization of Puerto Rico.
The sixty-ninth session of the Assembly will host major forums, including the General Debate, from September 24th to October 1st; the Climate Summit, on September 23rd; and the World Conference of Indigenous Peoples, on September 22-23.
More than 120 heads of State or Government have confirmed their attendance at the debate and at the event convened by the UN Secretary General, Ban Ki-moon, to set the basis for a global climate agreement in 2015.