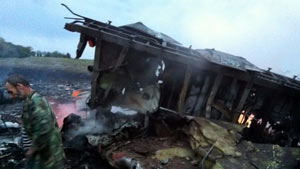 Russian Ambassador to the UN, Vitaly Churkin, said in the Security Council that Ukraine is responsible for the downing of a Malaysian plane for maintaining its airspace opened in a combat area.
Churkin reiterated the need of an international investigation into a Boeing 777 of the Malaysian Airlines that crashed in the region of Donetsk during an Amsterdam-Kuala Lumpur flight with 280 passengers and 15 crew members on board.
The Russian diplomat wondered why Ukrainian air traffick controllers sent a plane to a route over an area of clashes and antiaircraft defense systems.
Referring to the crisis in Ukraine, worsened in the wake of a coup against President Viktor Yanukovich in February, Churkin considered that international institutions have not risen to the occasion because the United States and its allies have done nothing to solve the situation.
He noted that Moscow has proposed three times within the UN Security Council a resolution to put an end to hostilities in the Ukrainian conflict, with no backing from the United States and its allies, and the people in Ukraine is suffering the burden of the conflict.
Churkin demanded a negotiated solution to the conflict as soon as possible.