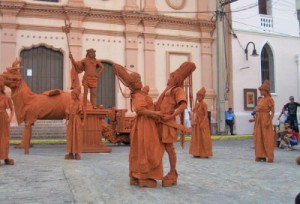 From this Thursday until March 30th, the National Amateur Theater Festival Olga Alonso, honoring the renowned art instructor, takes place in the mountain region of Fomento, in the Cuban central territory of Sancti Spiritus.
Cuba's Amateur Theater Comes to Stage in Sancti Spiritus
Fourteen groups from Holguín, Mayabeque, Ciego de Ávila, Camaguey, Havana, Granma, Santiago de Cuba and the host province participate in the event.
Residents of Fomento will enjoy the presentation of the visitors D' Morón Teatro (Ciego de Ávila), Gigantería Habana and Sancti Spiritus' Garabato and Cabotín Teatro.
Relevant specialists will deliver workshops with titles as "The street as stage", "Pedagogy with children and teenagers", and "Puppet show".
Puppet, drama and street theater, as well as theater for children, are the categories of competition.
At the end, the jury will give the Olga Alonso Award, along with the best Artistic Creation and the Communitary Culture.
Taken from Juventud Rebelde/Translated by Escambray