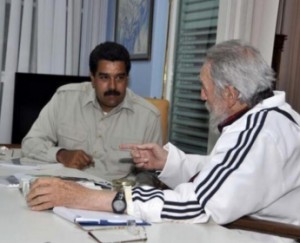 The historic leader of the Cuban Revolution, Fidel Castro, highlighted the speech of Venezuelan President Nicolas Maduro at UN General Assembly.
Letter sent to Nicolas Maduro by Fidel Castro
Dear Nicolas:
I had the pleasure of listening to your speech before the United Nations General Assembly.
It was a brave and brilliant speech, at the height of heroic President Hugo Chavez, who from the same podium was capable of exposing the empire's diabolical policy that threatens the life of our species.
On that same day, after the UN meeting was concluded, I also had the privilege of seeing the emotive meeting you had in the Bronx, with children, youths and adults who, with enormous pride, expressed the values and sentiments of that area of the city of New York. The images of those who expressed the feelings of a people that wants and deserves to live, are unforgettable and constitute a message of peace. The memory of Hugo Chavez did not fail to be present for one second.
Motivated still for so unforgettable memories, I send you a strong hug which I ask you extend to your delegation and your brave people.
Fidel Castro Ruz
September 24, 2014
9:32 a.m.