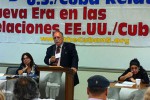 The history of terrorism on Cuba occupied today part of the agenda of an international campaign taking place until June 11 in Washington DC, in which representatives of at least 30 countries are participating.
The issue was included in one of the panels of the event "A New Era in USA-Cuba Relations," during the 3rd Campaign "Five Days for the Cuban Five."
The speakers in this segment were lawyer Jose Pertierra; Sandra Levinson, president of Cuban Studies Center in New York, and Francisco Letelier, artist and writer, son of Orlando Letelier, Chilean foreign minister during the government of Salvador Allende, murdered in this capital in 1976.
Graciela Ramirez, coordinator of the International Committee to Free the Cuban Five, who talked about the aggressions and damages suffered by the Caribbean island in more than 50 years, also attended the event.
In that context, participants reiterated the importance of the work by Gerardo Hernandez, Ramon Labañino, Antonio Guerrero, Rene Gonzalez and Fernando Gonzalez, when warning about plans by violent groups settled in south Florida against the Caribbean country.
The panel "Prospects of the United States-Cuba Relations," attended by William Leo Grande, dean of the school of Political Affairs of the American University, and retired colonel Lawrence Wilkerson.
The opening of the event "New Era…" had the presence of actor and activist Danny Glover, and reverend and former general secretary of the Council of the Churches of Christ, Joan Brown Campbell.
On June 4, lawyer Martin Garbus said in a news conference that the sentence of his defendant, Gerardo Hernandez, should be revoked.
Garbus reiterated that the sanction was imposed due to the U.S. "unprecedented" media campaign to influence in the jury.
In 2005, a group of U.N. experts concluded that the detention of the Cuban Five was arbitrary, and requested the government to remedy the situation.
After 16 years of the detention of those men in Miami on September 12, only two of them: Rene and Fernando Gonzalez, are already in Cuba along with their relatives, after completing their prison sentences.
Meanwhile, Hernandez, Labañino and Guerrero, still remain in U.S. jails, paying unjust sentence, including two life terms, 66 years and 10 months, plus five years of supervised release.