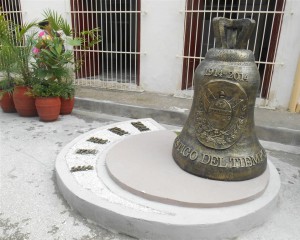 Regarded as symbol of the recent half-millennium commemoration, bells can be found everywhere in the historic urban area of the Village of the Holy Spirit.
Sancti Spiritus, the So-Called City of Murals in Cuba
Unmistakable Colonial-Styled Sancti Spiritus
Ancient Beautiful Village of Sancti Spiritus
They are either present in the form of logo, or were built for decoration, as in the case of the street next to the Mayor Church. The bells on this street represent the five centuries lived from June 4th, 1514, until 2014, when the 500th anniversary was celebrated.
The bronze color clay bells were all made at Navia's workshop. They feature the shield of the city, represented with a pigeon with wings outstretched, four Cuban flags, the letters N and S, and the motto Mi lealtad acrisolada (My sterling loyalty). The phrase Testigo del Tiempo (Witness of Time) is written on the lower edge of the bells.
According to consulted bibliography, the motto refers to the allegiance of the Council towards Spain when, in 1762, the English took over Havana. On the other hand, the pigeon represents the Holy Spirit, patron saint of the city, which is the only one in Cuba that holds its name in Latin language.
Sancti Spiritus is also known as Yayabo city, due to the river that flows through the town. It's also called the city of murals, since there are plenty of them in the village. The so-called street of the bells will become another identity feature, for sure.
Taken from Prensa Latina, and translated by Escambray.