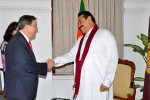 President Mahinda Rajapaksa on Monday repeated the Sri Lankan government's will to continue strengthening friendship and cooperation relations with Cuba.
Although distant geographically, we are to brother peoples with common challenges and aspirations, said the president when meeting Cuban Foreign Minister Bruno Rodriguez in this capital.
The head of Cuban diplomacy conveyed a personal salutation from President Raul Castro to Rajapaksa.
Rajapaksa and Rodriguez expressed satisfaction with the excellent state of bilateral relations and agreed on the need to further improve them.
They also agreed that bilateral ties still have a great potential in trade and investment, as well as in the fields of science, education, culture and sports.
The Sri Lankan president and the Cuban foreign minister exchanged views on the international situation and expressed the two countries' support for the Non-Aligned Movement, of which they are founding members.
They also defended the principles of multilateralism, self-determination and non-interference in other States' internal affairs.
In that context, they repeated the two countries' will to continue their historic cooperation at the United Nations and other international forums.
Also present at the meeting was Sri Lankan Foreign Minister J.L. Peiris, with whom Rodriguez held official talks later.