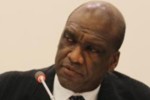 South African permanent representative at the United Nations, Jeremiah Nyamane Kingsley Mamabolo, said that Cuba's solidarity and commitment to just causes in the world can only arouse admiration and recognition.
We could never forget Cuba's contribution to end apartheid and its support to the African peoples, he told Prensa Latina after a tribute to the late anti-racist leader Nelson Mandela at the Riverside Church in Manhattan, New York.
Mamabolo stated that Cuba's solidarity has come for decades to the African continent and many parts of the world, in such fields as health, education and other sectors.
The diplomat said he is an admirer of the Cuban Revolution, "for what it has done for his people and the just causes in the world."
A few months after being released from his 27 years in prison, Mandela visited Cuba to express his recognition, and said the Caribbean nation was always present when it was necessary, the South African diplomat noted.
New York-based social groups organized the event at the Riverside Church, a ceremony that concluded on Saturday evening.