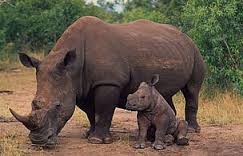 South Africa and Mozambique confirmed an agreement against wild animal poaching, after recalling that the two countries are affected by the largest traffic route of rhino horns.
Mozambique is where more poachers are hired and armed by transnational criminal groups and South Africa holds the largest rhino population, which totals nearly 20,000.
Since January, nearly 293 rhinos have been killed or mutilated in South Africa, while almost half of the attacks have taken place in Kruger Park, which shares a long border with Mozambique, both delegations underlined.
The agreement, signed on Friday, establishes joint work between the nations with the goal of eradicating, in a long term, the slaughter of rhinos, whose horns are considered to have magical powers in some Asian countries.
Rhino horn powder is sold in Asia at an average price of 6,000 dollars per every 100 grams, a price higher than that of gold, oil or cocaine in the black market.