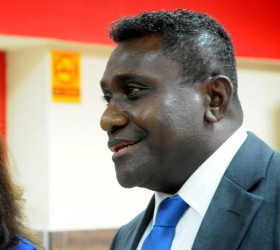 Prime Minister of Solomon Island, Gordon Darcy Lilo, will preside over this Thursday the opening of his country's embassy in this capital, in the context of the official visit to Cuba until July 27.
The opening of that legation will contribute to expand and strengthen ties of friendship and cooperation both nations have maintained since the formal establishment of diplomatic bonds on December 19, 2002.
At present, both countries are developing collaboration projects, particularly in medical and educational cooperation.
During his stay in the island, Darcy Lilo will pay tribute to Cuban National Hero Jose Marti at this capital's Revolution Square, and also hold official talks with President Raul Castro, among other activities.
Darcy Lilo arrived in Havana Wednesday night, and was welcomed by Cuban Deputy Foreign Minister Rogelio Sierra.
In statements to the press, the prime minister of Solomon Island highlighted his government and people's interest to strengthen relations with Cuba.