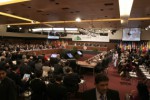 The United States suffered a major setback today from Latin American and Caribbean countries, which demanded in the morning plenary at the Organization of American States (OAS) assembly that Cuba participate in the next OAS Summit.
The Latin American and Caribbean delegation rejected the United States' arguments attempting to avoid or condition Cuba's presence at the summit, and many of them said they would not participate if Cuba is not invited.
Starting with Panama, the host country, followed by Ecuador, Nicaragua, Venezuela, Argentina, Brazil, Bolivia, Saint Lucia, Saint Vincent & Grenadines and Uruguay, each opposed the U.S. position.
For its part, the United States only achieved the support of Canada, Mexico, Dominica, Trinidad & Tobago, Barbados, Paraguay, Guatemala and Peru.