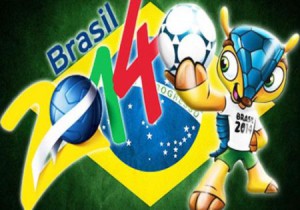 With a backdrop of last-minute tensions and a gorgeous stadium still undergoing its final touches, Sao Paulo is inscribing its name today in soccer history, with the honor of opening a World Cup still full of unknowns.
The trend of social protest and more than a few organizational problems in recent weeks, will necessarily end with a break for the crowds through the sport, accompanied by the mysticism, nature and joyful magic that radiates from Brazil.
Pope Francis Sends Best Wishes for World Cup
Although not everything has been resolved, the strength and commitment of Brazilian President Dilma Rousseff, her words to the people and then to the team itself were in a way the starting pistol shot for an event that always calls for a party.
Nobody has lost sight of the fact that the FIFA World Cup will be a very demanding trial for Brazil and especially, Rio de Janeiro, the host of the 2016 Summer Olympics.
The fact remains that the road to the sixth world title begins in the afternoon for the host, in the words of its coach Luiz Felipe Scolari (Felipao) who is looking for the first notch out of the seven needed.
The Penta (the only team with five championships) opens with the young Neymar at its head and a demanding rival, the Croatian Luka Modric, who is defiantly aimed at delivering the first surprise of the tournament.
After a pre-game show that includes Jennifer Lopez, Pitbull, Claudia Leite, and the percussion band Olodum, along with speeches from Rousseff and FIFA president Joseph Blatter, the ball will finally roll.
In the B matches, Spain's Furia Roja (Red Fury), current world champion, will face off against the Netherlands, the second place team at South Africa 2010 and Chile-Australia.