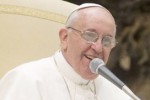 Pope Francis highlighted the values that are shared through soccer and expressed his desires for a successful World Cup in Brazil, starting today with a match between Croatia and the hosts.
Through his Twitter account, the Supreme Pontiff, a supporter of the San Lorenzo de Almagro club, in his native Argentina, said "I wish for everyone to enjoy a wonderful World Cup, in a spirit of true brotherhood."
Also, in a video broadcast by Brazilian Rede Globo television, the Pope highlighted the universal values of sports, which go beyond the subjectivities present on the field, such as team spirit, fair play, respect for opponents, and solidarity.
Pope Francis, 77, said he regretted that "at the end of this World only one team can carry the Cup," but said he was proud of soccer because "we all win if we learn the lessons that sports teach us, strengthening the ties that bind us."
Jorge Mario Bergoglio received an invitation from the president of Brazil, Dilma Rousseff, to attend the opening ceremony and the first match of the tournament, but declined the proposal.
The 20th World Soccer Cup will start today with the expected duel between Croatia and Brazil, giving Brazil the chance to exterminate the ghost of the Maracanazo, 64 years later.
The scene of the match will be the Corinthians Arena of Sao Paulo, with capacity for 61,000 spectators.