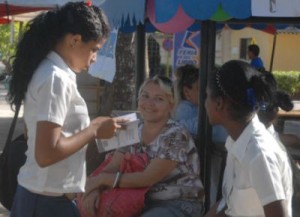 The 23rd International Book Fair in Sancti Spiritus expands its wings to the University José Martí Pérez (UNISS) in order to draw the attention from students through characters and written stories.
The literature fête takes place in the classrooms with the presentation of books such as Autobiografía de Gerardo Alfonso; Aventura científica, by Abel Hernández Muñoz; Judo: Apuntes para una historia espirituana 1909-2000, by Luis León and Luis Leonardo, and Tu frente por sobre mi frente loca, by Mayra Beatriz Martínez.
2014 International Book Fair Kicks off in Sancti Spiritus

According to Yairit Díaz Carbonell, member of the organizing committee in the center of higher studies, the night hours are left for the trova community.
Also included in the program is the workshop on Information Sciences, visits to the UNISS library, tours around the historic center of the city, lectures on poetry and narrative, and other cultural activities.
Panels, literary promotions, and conferences by Sancti Spiritus and German intellectuals are also planned, like the entitled La dimensión ambiental en la literatura para jóvenes, by Abel Hernández Muñoz, and Bibliotecas del futuro: bibliotecas en Alemania, by Rolf Manfred Hasse.
Also important are the expositions by Ecuadorian students who study in Sancti Spiritus, and the exchanges and meetings held among writers like Luis Rey Yero, Julio M. Llanes and Natalia Bolívar, among others.
The University of Pedagogical Sciences (UCP) Capitán Silverio Blanco Núñez will be host to lectures by Yanetsy Pino Reina, Virgilio Companioni Albrisa, Yuliet Martínez, Jorge G. Silverio, Ángel Martínez Niubó and Pedro de Jesús López Acosta, while the University of Medical Sciences is venue of the presentation of books such as Estudios del sueño. Ciencia y misterio, de Carina Díaz Martínez, y Aprender a ser saludables, de Carmen R. Alfonso.