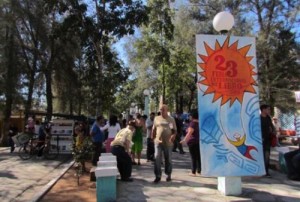 With an opening fueled by music, including the song which celebrates the 500th anniversary of the Holy Spirit village, the 23rd International Book Fair began in Sancti Spiritus, a Cuban central province host to the cultural event from February 26th to March 2nd.
Rolando Alonso, director of the Books and Literature Provincial Center, reported to Escambray that more than 30 000 copies of around 700 titles are available for readers in the territory.
In a similar style to the Morro Cabaña Fortress, the Delio Luna Echemendia Fair Center is the venue of the 2014 episode dedicated to writers Nersys Felipe and Rolando Rodriguez, to the 200th birth anniversary of Gertrudis Gomez de Avellaneda, and the 500th years of Trinidad and Sancti Spiritus.
One of the most crowded activities took place in the children stand Tesoro de Papel, and in the Sancti Spiritus Luminaria publishing house space in the fair.
Lectures and workshops on Sancti Spiritus literature at present times will be present in the book fair tour for this Cuban province, with the participation of writers such as Yanetsy Pino Reina and Juan Eduardo Bernal Echemendia, along with the city's historian Maria Antonieta Jimenez Margolles.
The program also includes presentations in some teaching institutions like the Jose Marti Perez University and the University of Pedagogical Sciences (UCP, for its Spanish acronym) Capitan Silverio Blanco Nuñez, as well as in some other facilities.
[nggallery id=89]