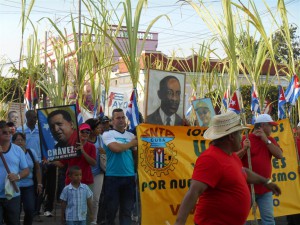 The main squares of the eight municipalities of Sancti Spiritus, are already crowded with thousand workers, farmers, students and people in general, all dressed in the colors of the Cuban flag, for the celebration of the International Workers' Day.
The parade was started at 7:30 A.M. after the opening speech delivered by Domingo Gutiérrez Gutiérrez, general secretary of the Cuban Trade Union (CTC) in the territory.
Raul Castro Presides over May Day Parade in Havana
2014 May Day Parade in Sancti Spiritus, CubaIn his statement Gutiérrez said this is a historic day for the working class, which is committed to fulfill the productive plans so as to foster economy, and to strenghthen socialism.
The parade was led by a bloc of health workers, who have stood out in important tasks like going abroad to help other people. They marched holding the flags of the nations where Cuban health brigades are currently working.
Members of the 17 trade unions present in Sancti Spiritus march this 1st of May in order to demand the immediate return of the Cuban antiterrorist fighters still held in US prisons.