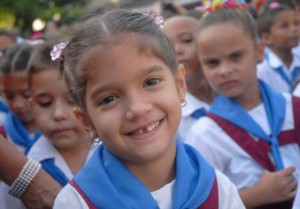 Faced with the challenge of implementing several transformations promoted by the Cuban Ministry of Education (Mined), Sancti Spíritus welcomed the new academic year this September 1st, when 434 schools opened their doors.
2014-2015 School Year Begins in Cuba
Over 73 300 students of various courses will attend classes this school year, which will be characterized with greater flexibility in the organization of school activities.
According to Edelberto Cancio Lorenzo, provincial director of education, the class schedule for primary, secondary, and pre-university education has been designed so that the basic subjects are taught in one session, while others like physical education, informatics, and artistic education are taught in he other session. This will also include the library hours, as well as complementary activities.
In this respect, the authority emphasized that the double session will not be eliminated in any of the schools, 90 of which were submitted to repair or maintenance actions during the present year.
Cancio Lorenzo also referred to some decisions related with the teachers' school hours, the rescue of the so-called Schools of Family Education, and the re-instauration of the councils of schools and daycares.
In order to prevent traffic accidents during the first day of school, the police have already announced some special measures in the territory.
Over 73 300 students of the various courses will attend classes this school year, which will be characterized with greater flexibility in the organization of school activities