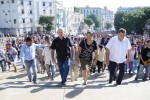 The 2014-2015 school year begins today in Cuba, where authorities will implement a series of changes aimed at raising education quality, a fundamental right all citizens of this island enjoy, free of charge.
Officials from the educational system say that the changes planned for this year will lead to a different dynamic in the teaching and learning process, which seeks to develop rigorous creativity among students along with personal initiative.
According to estimates from the Ministry of Education, more than 1,800,000 students will start the school year on the Caribbean island.
Cuban Education Minister Ena Elsa Velasquez said in recent statements to local press that the integrated training of students will be improved as they are given avenues to enhance their acquired knowledge and develop skills through reading, art, science, and sports.
In spite of the wide variety of ages and educational backgrounds among students in Cuba, quality education remains a priority, said the minister.
Double session classes will remain, with the most important subjects grouped in the curriculum in the first session, with the second session reserved for other activities, Velazquez noted.