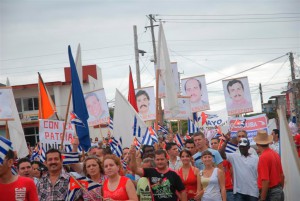 Residents of Sancti Spiritus demand the return of Antonio, Gerardo, and Ramón.
Seventeen years ago, on September 4th, 1997, young tourist Fabio Di Celmo was hit by a bomb in the lobby of Havana's Copacabana Hotel.
Rene Gonzalez: We Will Never Give up Denouncing Injustice
New Colloquium on The Five in Havana, Cuba
"That Italian man was in the wrong place at the wrong time, but I sleep like a baby". The brutal phrase, only possible in the mind of Luis Posada Carriles, filled the pages of the The New York Times later on.
Sixteen years ago, on September 12th, 1998, agents of the Federal Bureau of Investigations aborted the mission of five men —Gerardo Hernández, Fernando González, Ramón Labañino, Antonio Guerrero, and René González—, who were monitoring the actions of anti-Cuban terrorist organizations such as Alpha-66, and the Fundación Nacional Cubano Americana (Cuban American National Foundation), both based in Florida, USA.
Three of those Heroes of the Republic of Cuba: Gerardo, Antonio, and Ramón, are still kept in Victorville, Marianna, and Ashland prisons, respectively.
Because keeping silence would be complicit position, in Cuba, and specifically, in Sancti Spiritus, an international campaign was started September 4th, and will run until October 6th, when the 38 anniversary of the sabotage to a Cuban airliner in Barbados will be commemorated.
This Friday, the Casa de la Guayabera hosted the circle that is held every 5th, with the attendance of the members of the local committee of mothers in favour of the cause, as well as other similar groups, foreign students, and the provincial delegation of the Cuban Institute of Friendship with the Peoples (ICAP).
Raúl Cardoso Cabrera, head of this institution in Sancti Spiritus, told Escambray that the program of activities also includes a lecture at Jose Marti Pérez University, in coordination with the Cuban Union of Jurists.
A cycle ride for the Five and against terrorism, the planting of five palm trees, meetings with the Association of Combatants of the Cuban Revolution, and with the members of the Committees for the Defense of the Revolution, are some other actions to be carried out in the territory.
Several other activities have been also scheduled by the medical students, the workers of the Telecommunication Company, and Casa de la Amistad de Trinidad (Trinidad's House of Friendship).
Solidarity grows in this central Cuban territory, where we remember the young Italian tourist whose life was taken within the context of a sabotage wave against tourist facilities in the island, thus justifying the presence of the Five in the United States.