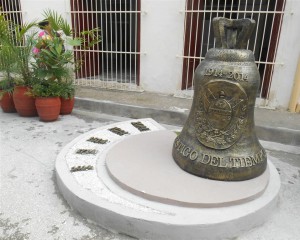 Sancti Spiritus is the only city in the country keeping its Latin name.
By Mayra Pardillo Gómez
The city of Sancti Spiritus (Holy Spirit) exhibits bells in the facades of service and gastronomic centers, magazines, brochures, cars and even on a busy street, as an allegorical symbol of its newly completed half millennium.
While bells appear in the first places as a logo, where the phrase "Witness of Time" and the dates 1514 and 2014 are read, on the street leading to the Greater Parish Church, as well as other sites of the historic city center (National Monument), they can be rung and snapshots next to them have been already taken by many pople.
Thereby, in the fourth of the first seven villages founded by Diego Velazquez de Cuellar there is now a space -in Honorato street- remaining, by five large bells, the history since that June 4, 1514, when it was founded, until 2014, when its 500th anniversary was celebrated.
Made in the renowned workshop Navia, where clay is worked, each of the bells collected 100 years, that is to say, the first covers from 1514 to 1614, and so on until the five centuries of this central city, about 350 kilometers east of Havana.
Resembling the color of bronze, in all of the bells stands out the city's coat of arms, where there is a dove with outstretched wings, four Cuban flags, the letters N and S, and the slogan: "My purified loyalty"; at the bottom edge the phrase  "Witness of Time" can be read.
According to consulted texts, that slogan refers to the fidelity established by the City to Spain, when in 1762 the British took Havana, while the dove represents the Holy Spirit, patron of the city, the only one in the country keeping its Latin name.
On the bottom edge, the reverse of bells has the inscription: Navia House Ceramic in relief. Each of them is resting on a single base of cement, artistically designed.
The now called by some "street of bells" -surrounding the central Sancti Spiritus boulevard, with several banks, lamps for night lighting and various potted ornamental plants- is a small space forbidden to traffic.
However, the Honorato street extends forward with the same coming and going of vehicles and people.
Sancti Spiritus, also known as the City of Yayabo, by the name of the river that runs through it, and as the City of Murals because of the number of such works performed by various artists from the plastic, now has a unique street where bells predominate.