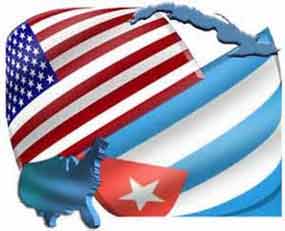 Russia's Trade Union of Nuclear Industry Workers condemns all unilateral sanctions, particularly the US unjust economic, commercial and financial blockade of Cuba, a leader of that organization said.
Union Vice President Yuri Borisov told Prensa Latina that his organization opposes that reprisal that Washington has maintained for over 50 years.
For Cuba we feel human warm, an affection that perhaps can only be compared to our love for Vietnam, and we will take different actions in all fronts to support the demand for an end to that punishment against an entire people, Borisov told Prensa Latina.
After a meeting in the Cuban Embassy in Moscow with Ernesto Freyre, head of International Relations of the Cuban Workers' Confederation (CTC), Borisov expressed satisfaction with the information he received, which he described as up to date.
It is always very pleasant to meet intelligent people, above all if you want to learn how union work is organized in another country, even more if it is a nation from another hemisphere like Cuba, he commented.
Borisov noted that it is good to have jointly evaluated common issues and topics of interest to boost collaboration in the work of the unions.
When I was on my way to the Embassy, the driver of my car was singing a very popular song in Russia that says that Cuba is far away, but close. Today, at this meeting, once again I was convinced of the truth of that idea, the union leader concluded.