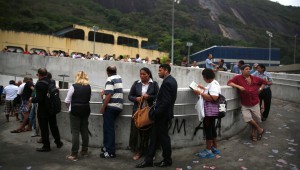 Brazilian President Dilma Rousseff, invited the people to vote in the polls, knowing that the country will continue its path as one of the most democratic nations on the planet.Shortly before exercising her franchise in Porto Alegre, capital of Rio Grande do Sul, Rousseff reiterated her call for people to go to choose between two centers and government projects.
One that will make it possible for Brazil to continue its proposal to socioeconomic change and improve the lives of people, and another already causing setbacks in the past, she said.
Brazil changed over the last 12 years and will continue in this way, she said noting progress in education, health, and safety.
In an evaluation of the election campaign, Rousseff said that this showed 'regrettable moments', where the level was not very high.
Circumstances of improper treatment were reported and I think that was rejected by the population, but overall it was a very different war, with many changes, he said.
After voting at a school in Porto Alegre, the head of state will return to Brasilia, where she will await the first results after the polls closed at 17:00 local time, and two hours later will give a press conference.
Her adversary the Brazilian Social Democratic Party (PSDB), Aecio Neves, will vote in Belo Horizonte, Minas Gerais, where he served as governor from 2003 to 2010.
Recent investigations of three polling, released last night, shows that the President heads the intention to vote and trailing by six percentage points to his opponent PSDB.