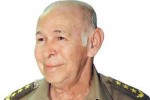 The Cuban people and government pay tribute today to Reserve Army Corps General Sixto Batista Santana, who passed away Sunday in Havana from a painful disease.
According to Granma newspaper, the remains of the outstanding revolutionary will be buried at the Veterans' Pantheon in the Colon Cemetery.
Batista Santana was born March 28, 1932 to a poor family in the western province of Santiago de Cuba. He joined the Rebel Army headed by Fidel Castro at a very young age and he assumed different responsibilities during the revolution, such as Chief of the Political Staff of the Revolutionary Armed Forces and Coordinator of the Revolution's Defense Committee.
Batista was a founding member of the Cuban Communist Party's Central Committee and he was also member of the Cuban Council of State.