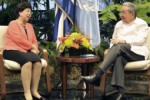 President Raul Castro met Margaret Chan, director-general of the World Health Organization (WHO), and Carissa Etienne, director of the Pan-American Health Organization (PAHO), both visiting the island.
During the meeting, they discussed some aspects of the 67th WHO Assembly, held in May in Geneva, Switzerland, which was chaired by this Caribbean island.
They also analyzed issues about the Millennium Development Goals, the post-2015 development agenda, and the universal health coverage.
Raul Castro and Margaret Chan also talked about the collaboration Cuba is providing to other nations, the training of human resources, and the world and regional health status.
Cuba's representative at WHO-PAHO Jose Luis di Fabio, Vice President Jose Ramon Machado Ventura, Foreign Minister Bruno Rodriguez, and Public Health Minister Roberto Morales, attended the meeting.
Both leaders travelled to Cuba to attend the opening of the new headquarter of the Center for State Control of Drugs, Equipment and Medical Devices, and the National Coordinating Center for Clinic Trials.
Yesterday, both experts also toured the Havana-based Center for Genetic Engineering and Biotechnology (CIGB), where they learned about the development of the national medicine program, and the impact of the pharmaceutical products developed in the country.
Chan also gave a keynote speech at the headquarter of the Ministry of Public Health, in which she warned about the increasing rise of non-transmissible chronic diseases, associated to unhealthy life styles.
Heart diseases, cancer, diabetes, respiratory and mental afflictions, surpassed infections as a main cause of morbidity and mortality worldwide, Chan said.
The social-economic progress is creating conditions to favor non-contagious diseases, problems the represent enormous challenges for the States.
In that sense, Chan stated that junk food has become the main food product worldwide.