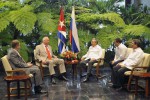 President Raul Castro met with the chairman of the Investigative Committee of the Russian Federation, Alexander I. Bastrykin, who is visiting the island.
During the cordial meeting, both officials discussed various aspects of the traditional friendly relations between both countries.
Russian ambassador to Cuba Mijail Kamynin, and Cuban Foreign Minister Bruno Rodríguez also attended the meeting.