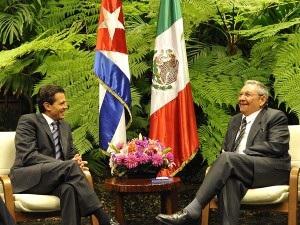 President Raul Castro Ruz received Mexican President Enrique Peña Nieto, who led that nation's delegation to the 2nd Summit of the Community of Latin American and Caribbean States (CELAC), and carries an official visit to Cuba.
Declaration of Havana Adopted in CELAC Summit Closing Session
CELAC Declares Latin America and the Caribbean a Peace Zone
Yesterday evening, Raul Castro Ruz held a friendly meeting with Costa Rica's President Laura Chinchilla, an official note states today.
Chinchilla visited Cuba on occasion of the 2nd CELAC Summit, where she received the pro tempore presidency of this organization.
During the friendly meeting, both presidents talked on the good collaboration that has existed in the process of the handing over the presidency of CELAC, according to information released to media.