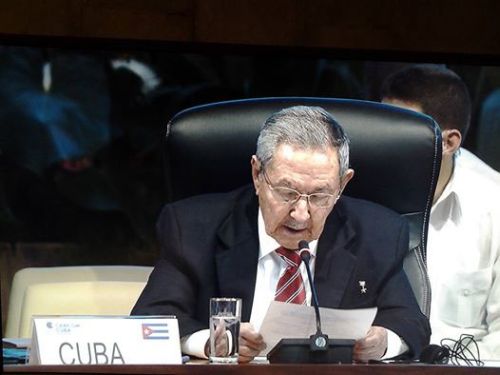 Cuba President Raul Castro stressed the need for unity among Caribbean countries and Cuba to confront common challenges imposed by globalization and stressed that only with close cooperation we can overcome.
In his opening speech to the Fifth Caricom-Cuba Summit mechanism, the Cuban leader recalled the history of slavery and the struggle for independence that share the Caribbean nations, which is the melting pot in which our culture has melted, he said.
Havana Hosts Fifth CARICOM-Cuba Summit
In the presence of 14 heads of states of the Caribbean Community (Caricom) involved in this system and attending this event, which is held in the Palace of the Revolution in this capital, Raul Castro said that the meaning of these triennial summits is to promote links and coordinations to advance the necessary integration.
He said that unity is vital to the survival of the countries in this area and stressed the participation of members of Caricom and other integration mechanisms such as the Community of Latin American and Caribbean States (Celac), the Association of Caribbean States and several of them in the Bolivarian Alliance for the Peoples of Our America (ALBA).
He also said that every December 8th Cuba recalls and celebrates the start of relations with the Caribbean, when ties with four of those countries were established. 'We are proud of these excellent relations', he emphasized.
Raul Castro said that despite the economic difficulties Cuba faces and the changes implemented to improve its economic and social model, the island will remain committed to cooperate with Caribbean brothers.
About 1,806 Cuban work currently on missions in the region; over 1,000 of them are health professionals, and to date over 4,000 thousand Caribbean have graduated here and 1,055 study in Cuban institutions today, he said.
We're working with the Caribbean and will collaborate in preventing and fighting the Ebola bilaterally and within the framework of Celac, he added.
The mechanism established between CARICOM and Cuba includes Antigua and Barbuda, Bahamas, Barbados, Belize, Dominica, Granada, Guyana, Haiti, Jamaica, St. Kitts and Nevis, Saint Lucia, Saint Vincent and the Grenadines, Suriname and Trinidad and Tobago.